Blending Our Custom Woodford Reserve Bourbon
Over the years, Metropolitan Grill has built partnerships with some of our favorite producers and brands. One of the more unique offerings is our custom bourbons that have been developed with legendary producers that include Buffalo Trace, Eagle Rare, and most notably, Woodford Reserve. The Woodford partnership began in 2013 and has become an annual team trip to the historic facility in the heart of Kentucky. Our 2019 tasting team included Lead Bartender Rob Nokes, Wine Director Aaron Wood-Synderman, Director of Operations Joshua Anderson and Beverage Director Amanda Reed. Reed shared her experience of the tasting below.  
"With the guidance of Master Distiller Chris Morris, we conduct a roundtable tasting and blending process. This year, we were presented eight-barrel selections, each at barrel strength with different fill dates and location in the rickhouse. We taste each individual barrel and discuss flavor profiles and potential combination. Next step, blending- we mix two separate barrels for each batch, creating twelve combinations, then dilute the batches to bottling proof. The blending aspect is what makes this process so unique. Other bourbon producers offer similar programs, but they are most often a barrel selection. Allowing us to blend creates so much more depth and complexity than what we start out with when tasting the barrel selections alone.
Of those, three blends made the final cut. We have a blend that is a good sipper, one that seems more suited for cocktails and a richer blend that would serve the after-dinner category.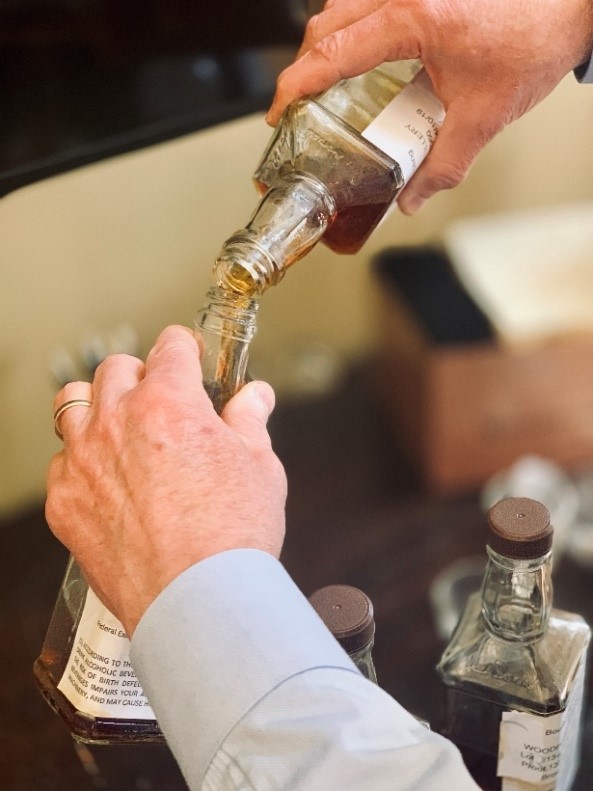 Our sipping blend shows notes of stone fruit, cinnamon and cedar, with a creamy palate and a dry finish; the spicier blend features notes of dark cherry, vanilla, and black pepper, with leather and dried spice on the finish, perfect for creating balanced, complex cocktails; and our dessert blend has flavors of sweet caramel, toasted pecans, vanilla, cream, and cinnamon. Once the blends are completed, the bourbon is sent to the bottling facility where they are hand bottled and imprinted with the batch number and Metropolitan Grill's signature. This year's batches are number 15-17 and are available on our shelves and ready to sip or stir.
~ Amanda Reed, Beverage Director