The Met's 40th Anniversary Black & White Dinner
Saturday, November 4th | 6pm – 10pm – SOLD OUT
$250 per person (tax and service charge included)
Save the date and join us for an unforgettable evening immersed in a Black & White themed dinner experience to celebrate!
The red carpet awaits your arrival, complete with a champagne toast, marquee photo moments, and passed appetizers. Following your grand welcome, indulge in a 4-course menu, featuring highlights spanning four decades — from cherished timeless classics to exciting new favorites from our kitchen, bar, and wine cellar.
To secure your table reservation: Please email your party size and preferred dinner seating (6:30pm or 7:00pm). A team member will reach out to confirm your reservation and assist with payment. *Complimentary valet parking available. 
Celebrate with us all month long!
We have planned an array of exciting events, features, and giveaways throughout the month of November for you to enjoy.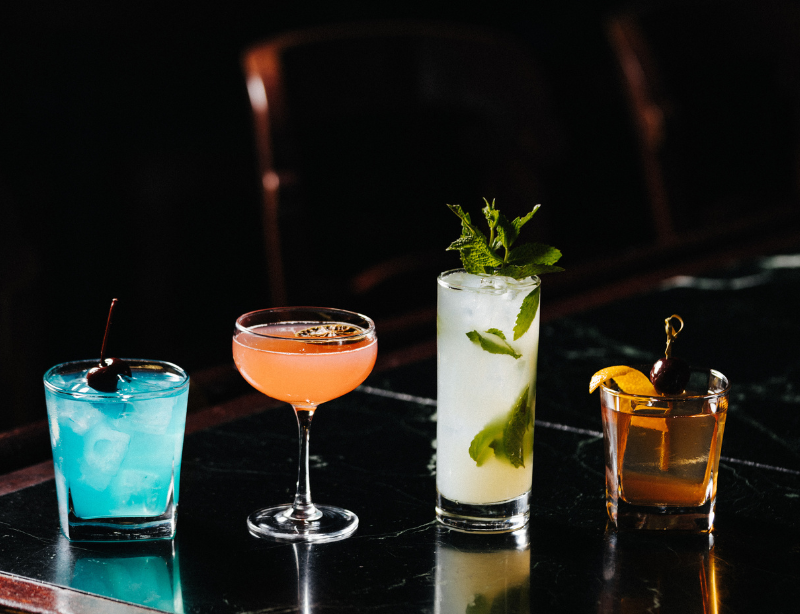 Cocktail Class: Drinks through the Decades
NOVEMBER 10th | 3:30 – 4:30pm | $85 per person
To commemorate the 40th anniversary of the Metropolitan Grill, we're taking a nostalgic journey through the decades, paying tribute to classic cocktails of yesteryears. Join us as we showcase a beloved cocktail from each of the past four decades. This class will explore cocktail trends that have either faded into obscurity or continue their popular reign, all while uncovering their connection to the illustrious history of the Met.
~Cocktail Features~
Blue Lagoon
Cosmopolitan
Mojito
Old Fashioned
Wine Flights
AVAILABLE THROUGHOUT NOVEMBER
Our team has curated two flights showcasing a selection of offerings that have been significant throughout The Met's four-decade journey.
Legacy Flight | $40
Fume Blanc | Robert Mondavi, Oakville 2019
Pinot Noir | Domaine Serene, Yamhill Cuvee, Willamette Valley 2018
Blend |  L'Ecole No. 41, Perigee, Walla Walla Valley 2016
Cabernet Sauvignon | Simi, Sonoma County 2019
Vintage Voyage | $80
Chardonnay | Louis Jadot, Meursault 2018
Pinot Noir | Kosta Browne, Sonoma Coast 2015
Blend |  Ensemble, Metropolitan Grill by Doubleback, Walla Walla Valley, 2017
Cabernet Sauvignon | Joseph Phelps, Napa Valley 2019
Martini Flight
AVAILABLE THROUGHOUT NOVEMBER
From timeless classics of the 80s to the innovative & award-winning creations of the 90s, and the modern twists of the 2000s, our Martini Flight is a tribute to the evolution of this iconic cocktail. | $40
Vesper | Vodka, Gin, Lillet Blanc
Smoky Met Martini | Vodka, Islay Scotch, Orange Oil
Savory Martini | Old Tom Gin, Dry Vermouth, Celery Bitters, Olive Oil
Manhattan Flight
AVAILABLE THROUGHOUT NOVEMBER
Our Manhattan Flight is a celebration of this timeless libation. Join us on a nostalgic journey through the decades as we pay tribute to the iconic Manhattan cocktail. | $50
Classic Manhattan | MG Eagle Rare, House Blended Red Vermouth, Angostura Bitters
Met Manhattan | MG Woodford Reserve Bourbon, Carpano Antica, Peychaud's Bitters, Absinthe Rinse
Black Manhattan | MG Buffalo Trace, Averna Amaro, Angostura & Orange Bitters
Share Your Met Memories
ENTER TO WIN NOVEMBER 1 – 30
Share your favorite Met Memory from November 1st to 30th for a chance to win a luxury getaway at Alexis Hotel and Dinner for Two! Over the course of four weeks, we'll be selecting four lucky winners, each representing a decade of cherished memories.